Freitag, 21. Oktober 2016
161020 Cadiz to Ayamonte
After a morning to look around the town of Cadiz, we set off back along the coast. The first day we just crossed the bay to Rota and a tasty dinner in a Cuban restaurant.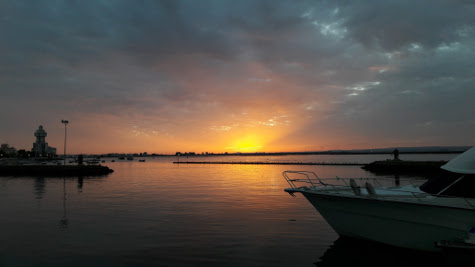 Then back to Mazagon and the next day on to El Rompido which we reached by navigating through the shallow and changeable channel where river and sea meet.
Back to Isla Christina and then, using blind navigation, on to Ayamonte.
Another great weeks sailing with a lot learned. And l finished off with my offshore skipper qualification and Marine VHF qualification.
The GPS tracks are at:
http://www.gpsies.com/map.do?fileId=pttstpnuxvfbdfxa
http://www.gpsies.com/map.do?fileId=vntwsywfnnhrcrpf
http://www.gpsies.com/map.do?fileId=bdacxqauozzaxnmf
http://www.gpsies.com/map.do?fileId=xqtjacpjfkvibbnc
http://www.gpsies.com/map.do?fileId=ryujqprucyykpwda
... comment