Samstag, 30. August 2014
140830 Karwendelrunde
Despite the showers and low cloud we had a fantastic day doing the Karwendelrunde. The 2000 meters of climbing was challenging for me but the scenery was stunning. Almost the entire route was on forest tracks but we found a few trails to add to the fun.
Until the Karwendelhütte we only met two other cyclists and they were in the process of abandoning their planned tour. Once we saw four hillwalkers far off on the other side of the valley. Obviously the rain kept every one at home. It was amazing having so much mountain just for us.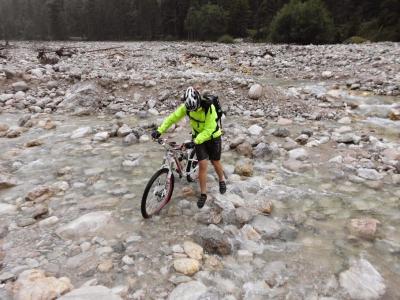 During the worst rain of the trip we had to ford a river. Heidi fell in as we were jumping from stone to stone and did the rest of the tour in soaking shoes.
The day before this ride I was in Friedrichshafen with Jon at the big bike show. The amazing thing there was almost everything was about "Image". There were bikes for eight thousand Euros, cool looking clothes and accesories of every kind but it all seemed to be about "buy our stuff and show people what a great biker you are".Today was very different. Just the two of us, our "normal" bikes, the mountains and the rain. But today was what biking is really about - getting out there and enjoying yourself even without people applauding your great taste in clothing or your expensive bike. I still believe that the most important things are your legs for getting you uphill and your head for getting you back down.
75km and over 2000 meters of climbing.
http://www.gpsies.com/map.do?fileId=czrpwdszgdnwmlrn
Actually the distance was nearer to 77km. The distances that I write in this blog are those shown at gpsies.com but these are those measured on a flat map. The actual distance covered needs to take account of the ups and downs. But, at the end of the day, who cares about 2km.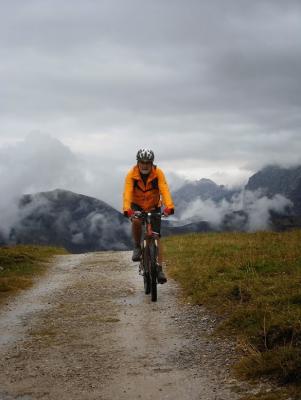 Photos at
https://plus.google.com/u/0/photos/103827427036815679772/albums/6050786238514201409?authkey=CM6y9qnHhfj9mAE
... link (0 Kommentare) ... comment