Donnerstag, 25. Dezember 2014
141225 Sportheim Böck
Woke up to rain and 3°C. Perfect Christmas Day weather. The last years Max and I have spent Christmas morning skiing but this year there is no snow.
We had agreed to meet this year at 10:00 for a bike ride and sure enough, despite the weather, Max was at the door and ready to go five minutes early.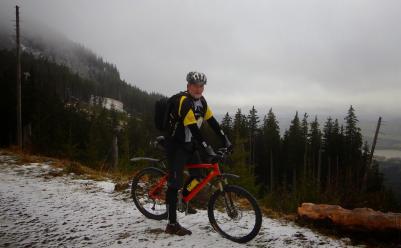 After 10 minutes of cycling up the mountain we had to stop and take off half the clothes we had on. Surprisingly we met no one on the way up. A few hundred meters before the top the rain turned to snow and we finished the ride on a thin cover of snow.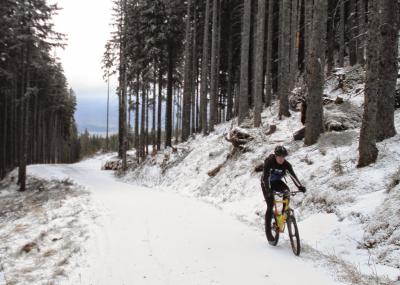 The hotel at the top of the mountain was open so we ordered two mulled wines and a hot soup. Great! Before cycling back down we put on every item of clothing we had with us - unfortunately we had no ski goggles.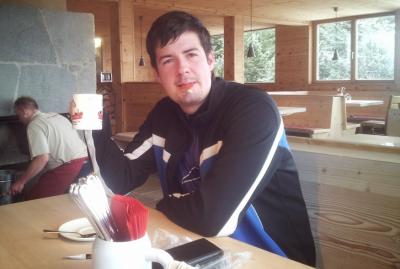 On the way down we met Caro (the neighbour) on her way up so we aren't the only crazy people in town.
We stopped off at the Explorer Hotel for a Cappucino before cycling home.
Track is at
http://www.gpsies.com/map.do?fileId=nkwmuczwhufznytb
10.8km with 600 meters of climbing.
More pictures at
https://plus.google.com/u/0/photos/103827427036815679772/albums/6050786238514201409?authkey=CM6y9qnHhfj9mAE
Max's blog at
http://maxhogarth.blogspot.de/2014/12/christmas-day-biking.html
This was my last cycle ride in 2015. The total distance I cycled in 2014 was 4410 kilometre -
1303 km with the mountain bike and 3107 km with the race bike. I think that tells you which I prefer nowadays.
... link (0 Kommentare) ... comment