Freitag, 22. Mai 2015
150522 Alpspitz
Thursday evening and it was pouring with rain. But Thursday evening is mountain biking so 4 of us - Wera, Bettina, Heidi and I - cycled up to the new snow on the mountaion.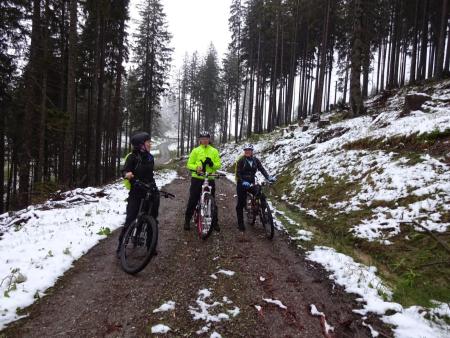 It was cold and wet so we cycled straight back down and, after a shower, I went to the pub for a Glühwein.
11km and 600 meters of climbing. Track is at
http://www.gpsies.com/map.do?fileId=vevqptuotscpuaco
So why do we do it? Why leave a warm dry flat to cycle up a cold and wet mountain? Maybe the fear that if we don't then we will begin to vegetate. Start to stay at home when it is cold and dry and then when it is warm and sunny and then never leave? Or maybe we just enjoy the chance to live a real life? Or maybe we just enjoy the company and conversation which is just as good no matter what the weather?
... link (0 Kommentare) ... comment